Hi, I'm Emily,
I'm not very good at keeping secrets ... so here it is.
I can't believe I'm writing this.
I've created a SEX GAME!!
There I said it.
If you knew me you would be as surprised as I am ... I blush if someone says nipple in public.
So why did I do it?
It all started with an asparagus steamer.
Yes, an asparagus steamer
When my fiancé, JC, gifted me one for Valentines Day, I knew I had to do something about our sex life.

What was he thinking?
February 14th should be about oysters and Champagne; followed by steamy, hot sex—not steaming hot green veg.
Not only was I planning to spend the rest of my life with this man, but the rest of my sex life.
On judgment day I don't want to lie on my death bed thinking "the sex wasn't great, but hell, I have the best equipped kitchen in London".
That day I determined that our love life had to radically change.
... but how do you go from missionary before Match of the Day, to "Darling I want you to tie me naked to the chandelier, spread chocolate sauce on my nipples and spank me with a Jimmy Choo pump"?
It's a tricky transition, trust me.

I tried asking my girlfriends for advice:
"Take him to see 50 Shades of Grey" – Tried it. His comment after the movie "If I had that much money I wouldn't buy an Audi R8"
"Buy him a copy of the Karma Sutra" - He's a man, he doesn't 'do' instruction manuals.
"Invite me for a threesome" - err, no.
Then one friend suggested I try a game, the sort where couples start off asking intimate questions, but end up getting progressively steamy.
It sounded good, so I did some research and we tried a few games out.
But they were mostly disappointing: either too kinky or too tame. Also, they were expensive and arrived in big shiny boxes which were, quite frankly, embarrassing at airport security.

Then one evening, lying in a big bubbly bath, I had my eureka moment; I could make an app instead of a luggage-breaking board game—always available, no passion-killing setup and perfect for those naughty nights away!
The app idea was simple: a game for couples that would provide an easy and fun way to escape from missionary monotony. A way for them to share unspoken desires they had no other easy way of expressing. While providing a natural and blush-free way of experimenting with stuff they never have a reason - or the courage - to try.
So, based on my on-the-job research, reading dozens of Amazon reviews and a study of successful apps, I started to design my game.
No instructions required … a bit of a passion killer. Tick
Kinky is good (a feather), perverted is bad (a chicken). Tick
Push boundaries … but not too far. Tick
Make it suitable for beginners and experienced enthusiasts. Tick
… and so it went on.
So that's why I'm here on Indiegogo.
I have now created 'The World's Best Game for Adult Couples' but I need YOUR help to make it a reality.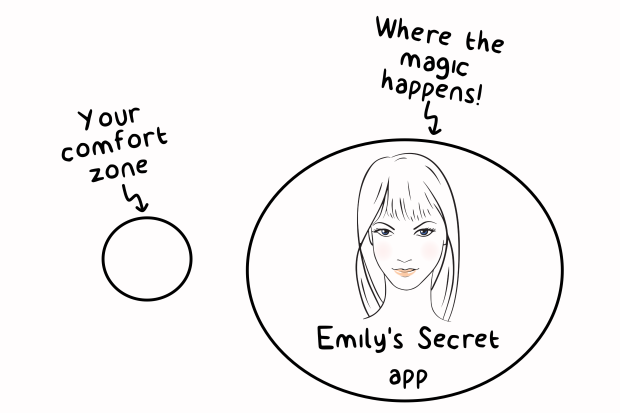 Ok, I don't know whether it is officially 'The World's Best', but I do know it's really, really good fun, amazingly liberating and oh-my-god-that-rocked-my-world naughty. It's certainly ignited the creative spark and passion in our lives.
I'm convinced that the reason people don't have more sex is because they're not getting the kind of sex they want. This app ensures you get what you want ... and you learn what your partner wants too.
The only way you'll find out how much fun it is, is if you help me bring it to market. I think you'll love it as much as we do.
What is the game?
I'm not going to tell you too much about the game!
No wait, don't leave… you'll thank me later.
If you decide to pledge, you'll have so much more fun if you don't know what to expect. Anticipation is the ultimate aphrodisiac!
But to help fire your imagination, here's a little teaser…
There will be:
secrets revealed
experimentation
sensual undressing
exploration
blindfolds
surprises
laughing … lots of laughing